PERMANENT FORMWORK FOR SHEDS, GARAGES AND CYCLONE PROOF LAWN LOCKERS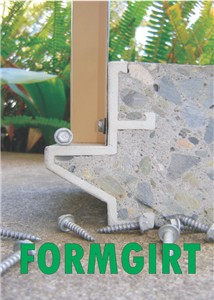 FormGirt is permanent formwork for garages & shed slabs, incorporating unique wall sheet to slab connection system, water proofing, vermin proofing, increased building integrity, and prevention of wall sheet corrosion from contact with concrete.
FormGirt is the most advanced and up-to-date breakthrough in garage and shed building and concrete slab construction.
FormGirt is made from PVC with a cellular foam core construction that works similarly to timber. It has minimal thermal movement and has the added benefit of UV protection. Pre-made corners connect to long lengths, with two jointing strips pushed into the extrusion.
FormGirt is held in position by steel pegs and is simply and quickly fixed to desired height by wedges. Wall sheets are fixed to the slab by Type 17 screws, screwed into the fixing tongue after the concrete has set.
FormGirt becomes a horizontal and vertical loadbearing member - increasing the structural integrity of the building.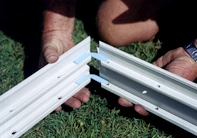 Benefits of FormGirt include:
Quick setup time.
Comes with all accessories and is easily assembled with standard tools.
Provides a unique & extra inbuilt slab to building hold down system.
Can replace bottom girt in given situations and increases the integrity of the building.
No formwork or stripping required.
Steel pegs can be driven into base without difficulty or mis-alignment.
Suits most garages or sheds with a concrete slab.
Fits all profile wall sheeting.
Neat and tidy appearance.
Inbuilt vermin proofing.
Controls wind and dust penetration.
Completes waterproofing of slab.
Provides a permanent rainwater seal and anti-splash barrier, and is self-draining.
UV protected, won't rot or rust.
Helps prevent corrosion of wall sheeting from contact with concrete. Sheet warranty may be voided without such a barrier.
Chip, dent and impact resistant.
Prevents grass growing through profiles. Easily whipper snipper maintained.
Perfect for garden sheds and lawn lockers with swing doors.
Available in 3m lengths in 60m packs